Tire Service
BMW Tire Service

Benefits of a Tire Service

Whether you drive a BMW or any other make or model, the condition of your automotive tires matters, the staff of the Tire Center at Hansel BMW of Santa Rosa wants to invite you to visit us soon. We offer regular tire inspection, maintenance, and replacement services of interest to every auto owner in this area. No driver enjoys the experience of sustaining a flat while navigating through heavy traffic along roads near Santa Rosa.
By seeking frequent tire inspection services, drivers often help reduce their chances of encountering an unexpected flat tire. In some cases, auto mechanics notice heavily worn treads or fraying tires before blowouts occur. They may suggest rotating the tires to obtain more even wear, for instance. While these measures cannot prevent every flat tire, of course, they do frequently enable drivers to get replacement tires proactively, before problems arise.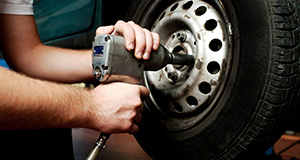 Hansel BMW of Santa Rosa
2925 Corby Ave, Santa Rosa, CA 95407
Serving
Santa Rosa

,

San Francisco

,

Petaluma

,

Windsor

&

Napa, CA

Our BMW dealership benefits from the skills of experienced, well-qualified Certified Automotive Technicians. These auto industry professionals possess extensive knowledge about tires and tire maintenance. They've demonstrated the necessary skills to work on every make and model of vehicle.

Ask us to change tires correctly, inspect tires, rotate tires, or evaluate the condition of tire treads. We welcome the opportunity to assist you in maintaining your vehicle in this beautiful part of California. Our convenient BMW Tire Center strives to supply an outstanding level of service!
Santa Rosa Tire Service

Did you know we offer exclusively high-quality tires and other original equipment manufacturer parts? Our dealership adopted this policy to render the best possible value to our customers. We don't want to install any automotive components not designed to fit your specific make and model of vehicle. Customers know they can depend upon the great selection of tires available through our well-equipped BMW Tire Center!
We welcome the opportunity to help you maintain your tires in excellent condition. Visit us soon to obtain tire inspection services, or to shop for replacement tires. Our BMW Tire Center offers a superb level of customer assistance.
We look forward to helping you!