BMW Tire Balance and Wheel Alignment Service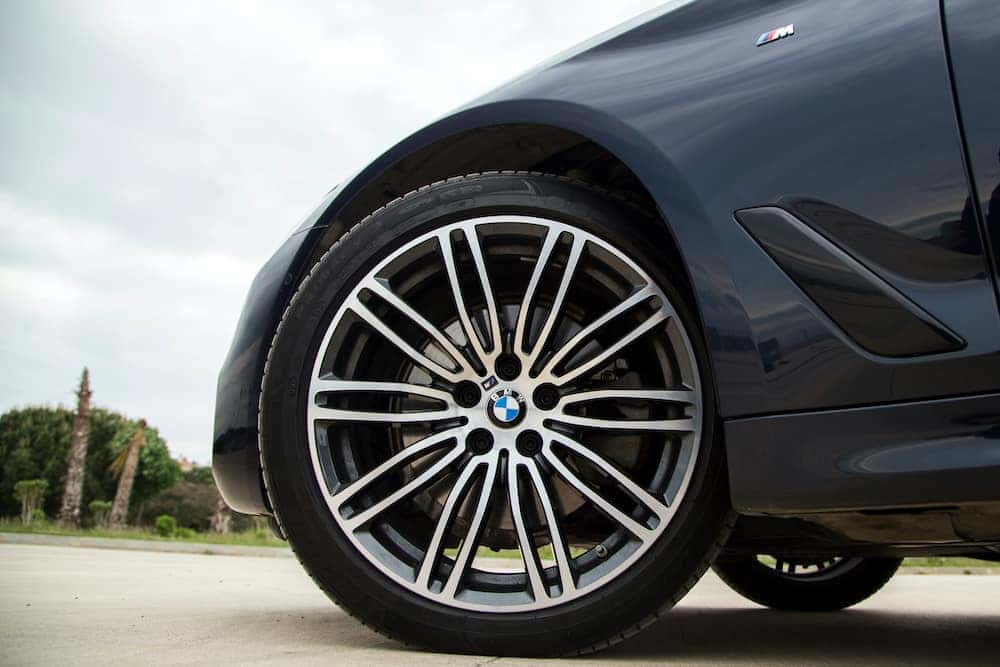 Both tire balancing and wheel alignments contribute to a smoother ride in your BMW. A tire balance corrects the weight imbalance on your tire and wheel assemblies, while an alignment corrects the angles of the tires so they always come in contact with the road in the right way. Schedule any service needed on your BMW with our Service Center in Santa Rosa today!
BMW Tire Balancing
Tire balancing, or wheel balancing, corrects the uneven distribution of weight in the wheels. When your wheels aren't properly balanced, it can lead to problems such as vibration, excessive tire wear, and even cause damage to the suspension.
While your BMW is receiving a tire balancing service, its tires and wheels are mounted onto a tire balancing machine. The machine spins the tire and wheel assembly to measure the imbalance so that our technician can precisely install the correct tire weights to achieve a properly balanced wheel and tire assembly. Tire balancing and wheel alignment happen in the same service, but it's important to understand that they are not the same.
BMW Wheel Alignment
Wheel alignment refers to the adjustment of your vehicle's suspension. The suspension is the system that connects your vehicle to its wheels. This is not an alignment of the wheels themselves.
A wheel alignment will keep your vehicle from veering to the right or left. It can also improve the handling of your vehicle and stop unusual on-the-road vibrations.
You should seek alignment for your vehicle's wheels when:
You get new tires
You lower or lift your vehicle
Suspension parts affecting tire angles are replaced or adjusted
You've had a fender-bender or a hard impact with a curb or road debris
It's been a year since they were last aligned
You notice uneven tire wear, steering pull, or an off-center steering wheel
Visit Our Santa Rosa BMW Service Center
At Hansel BMW of Santa Rosa, we employ technicians who have been trained and certified by BMW. This means that they know the very specific ways your BMW model works. They have access to the latest diagnostic and repair tools, and they will use only OEM and BMW-approved parts for service. Of course, our dedication to excellence goes beyond just your BMW. While your vehicle is receiving top-quality service, you can relax in comfort, thanks to our well-appointed waiting area that comes with a variety of impressive amenities. Or, use our courtesy transportation shuttle or complimentary Lyft and Uber services if you have places to be.
Our Service Center in Santa Rosa is here to help you get your BMW running at peak-performance. Whether the issue is in the tires, or it needs another service, schedule an appointment with our Service Center, or contact us today, and drive off our lot in confidence.