2020 BMX X5 vs. 2020 Audi Q7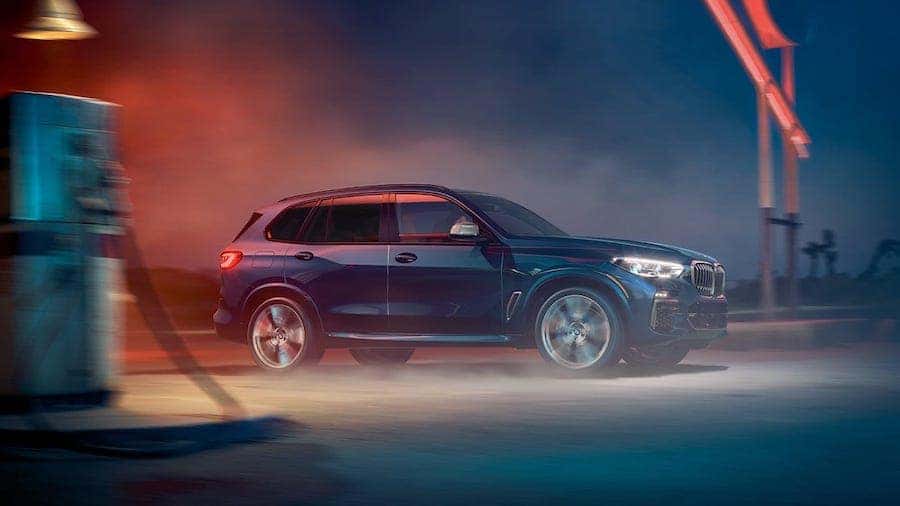 When it comes to shopping for industry-leading luxury, personal preference plays an essential role.
Upon a casual observation of the rival 2020 BMW X5 and 2020 Audi Q7 mid-size SUVs, this principle rings especially true as it appears you cannot go wrong one way or the other. Each expresses both a compelling brand of captivating craftsmanship and cutting-edge technologies that will undoubtedly deliver an exquisite driving experience.
To bring their differences to the fore, our resident luxury automotive experts put the 2020 BMW X5 and 2020 Audi Q7 grille to grille.
| | | |
| --- | --- | --- |
| 2020 BMW X5 | vs. | 2020 Audi Q7 |
| 3.0L V6 | Base Engine | 2.0L I-4 |
| 335 | Horsepower | 248 |
| 330 | Torque (lb-ft) | 273 |
| 23 | Fuel Economy (Combined MPG) | 21 |
| 5-7 | Seating Capacity | 7 |
| 72.3 | Max Cargo Space (cu-ft) | 69.6 |
| 36 months / 36,000 miles | Complimentary Maintenance | 12 months/ 10,000 miles |
Which Is Better: The BMW X5 Or The Audi Q7?
The most glaring imbalance between the 2020 BMW X5 and the 2020 Audi Q7 lies in the performance numbers. Equipped with a brawnier 3.0L V6 engine, it comes as no surprise the 2020 BMW X5 bests the 2020 Audi Q7 in terms of both horsepower and torque by substantial margins.
Perhaps a surprise, the BMW X5 achieves a better fuel economy rating despite its superior performance. In turn, drivers planning to roam the streets of Santa Rosa in an Audi Q7 should expect to visit the gas pump more frequently.
In terms of passenger volume, the Audi Q7 can seat seven among three rows. The BMW X5 comes with two rows as a standard but offers a third-row as an option, which brings seating capacity to seven. As for cargo hauling sensibilities, however, the 72.3 cu-ft of the BMW X5 boxes out the 69.6 cu-ft of the Audi Q7.
The final difference of note is not exclusive to the BMW X5 and Audi Q7 in particular, but the BMW complimentary maintenance package eclipses Audi's by two years or 26,000 miles. Whether you plan on logging heavy miles behind the wheel of your next luxury SUV or reserving it for the family weekend getaway, you receive more value out of the box and onto the road with the 2020 BMW X5 than with the 2020 Audi Q7.
Find The 2020 BMW X5 For Sale At Our BMW Dealership In Santa Rosa
Your 2020 BMW X5 is waiting at our Santa Rosa dealership – contact us at Hansel BMW to schedule a test drive.
Check out our new BMW specials for exclusive offers on your very own BMW X5.